About
Shikun & Binui
Shikun & Binui is the leading infrastructure and real estate development group in Israel and a global company with operations in over 20 countries on 4 continents, with its main headquarters in Israel. The group is involved in highly complex mega-projects in both the public and private sectors. The group's companies are leaders in each of their areas, whether in paving roads and building bridges, initiating and building power plants, residential neighborhoods, commercial and public buildings, land improvement and development, or in the maintenance and rental of income-yielding properties. The group is also involved in the construction, financing and operation of mammoth infrastructure, environment, energy, water purification and desalination initiatives, and in the development of large-scale projects in Israel and around the world.
Shikun & Binui has adopted sustainability as part of its vision: "To be a leading commercial group that creates an advanced and sustainable living environment in Israel and around the world, for ourselves and for future generations." Our operations weigh environmental and social considerations, alongside our economic considerations. Every project makes a special effort to preserve the environment and to minimize and repair any damage caused during the construction process. The group has also adopted advanced sustainable construction standards, is involved in renewable energy and water projects and is dedicated to operating transparently and in cooperation with other organizations. Shikun & Binui is also active in many community involvement projects.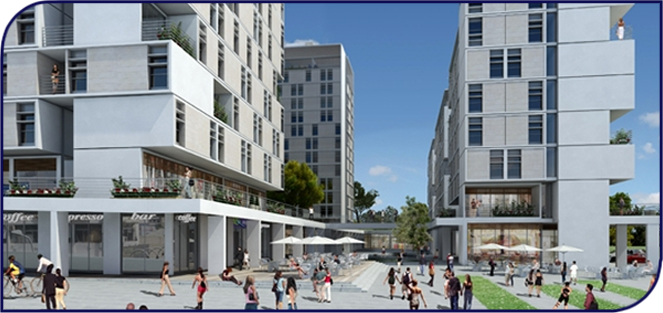 Student dorms at Tel Aviv University - Simulations for illustration purposes only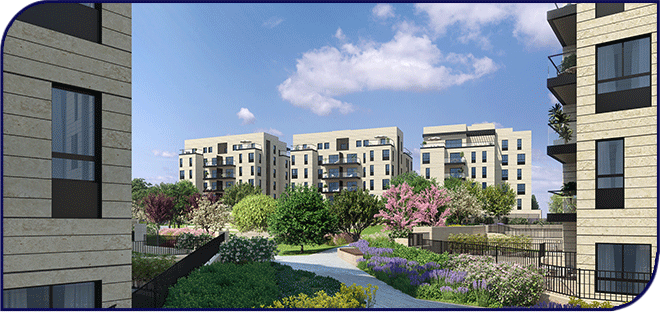 Arnona Dreams - Simulations for illustration purposes only
Shikun & Binui has extensive experience in tender projects such as the student dorms at Tel Aviv University, and the Israel Police Academy in Beit Shemesh.
The new Tel Aviv University student dorms
This student housing project, covering 35,000 square meters on Tel Aviv University's campus, is a veritable student city, with eight new dorm buildings, stores, cafés, gardens, green spaces and activity and recreation sites. This project, which was built by Solel Boneh and is being maintained by Shikun & Binui Real Estate, enables thousands of more students to live on the greenest and most beautiful campus in Israel. The Broshim and Einstein Dormitories have 3,400 units that include studio suites and shared apartments for undergraduate students from abroad and from outlying areas in Israel, apartments for married students and apartments for young faculty members and their families. All the apartments are built on a high standard of design and finishing, with a focus on comfort and a homey atmosphere, so that the students who live here will feel at home. Shikun & Binui furnished the apartments and is responsible for tenant intake and the maintenance of the entire complex, including the public spaces.
National Police Academy in Beit Shemesh
Shikun & Binui is the concessionaire for the management and maintenance of the police academy. In 2011 Policity Group, in which Shikun & Binui is a partner, won the PPP (public-private partnership) tender to operate the Israel Police training and instruction center, and in the center was officially opened in 2014. The State of Israel signed a 25-year contract and pays NIS 140 million a year (NIS 35 million per quarter) to Policity for the management of the training and instruction center, including the planning, construction, operation, maintenance and financing of this project.
This project was built by three branches of the
Shikun & Binui Group
Contract Execution– Shikun & Binui Solel Boneh
The contracting arm of Shikun & Binui for executing civil engineering and construction projects in Israel.
A registered contractor with the highest level of classification in all areas of operation. Solel Boneh was established 94 years ago and over the decades has built projects, landmarks and landscapes that are an integral part of Israel's history: the government compound in Jerusalem, the International Congress Center (Binyanei Ha'Uma), Yad Vashem World Holocaust Remembrance Center and the Crowne Plaza and Dan Jerusalem hotels in Jerusalem.
Shikun & Binui Concessions
Shikun & Binui's concessions division manages and provides ongoing services every step of the way for PPP projects – from the initial publication of the first stage of a tender, through the financing, construction and operation stages, and ending with the handing of the project over to the body that ordered it. This division develops and implements projects such as the Police Academy in Beit Shemesh and is also a partner in Arnona Dreams.
Shikun & Binui Real Estate
The leading real estate company in Israel. The company initiates the planning and construction of housing projects, the development of commercial centers, and the construction and management of income-yielding properties such as student dorms, offices and commercial space. The company, which was established nearly 90 years ago, has so far built over 190,000 housing units throughout Israel, for over a million people. The company has dozens of active building sites that include 2,500 apartments currently under construction and tens of thousands of square meters of commercial space.
Mega Projects
Shikun & Binui
Student dorms at
Tel Aviv University
Want to schedule a meeting and tour the apartments?
will contact you as soon as posible